Introduction
Outside of the quality evaluation process, you may wish to capture feedback for any colleague on a more general topic. The feedback can be anything - some simple praise and recognition of a job well done, constructive feedback, or a helpful hint/tip. Whatever you feel is appropriate...
It's worth noting here that this feature is designed to support a leadership culture where feedback is encouraged and not designed to remove face-to-face conversations.
By documenting feedback and making the process of sharing feedback more accessible and more transparent, we've found over the years that a culture of learning, autonomy and accountability can be established relatively quickly.
Getting started
Go to the Feedback menu and click on the Send general feedback.
Again, to encourage that open and transparent feedback culture, we'd encourage you to grant permission to all roles and all users to provide feedback, but the choice is yours. Simply assign/unassign the permission to Provide general feedback in Roles & Permissions.
Here, you can
Select the feedback topic from the list of general feedback topics you configured in Feedback settings
Select the recipient or recipients you wish to receive the feedback. You can send the feedback to one person or as many people as you wish. The recipient(s) can be anyone in any role and the options in the drop-down are self-explanatory.
Add "positive", "neutral", and/or "negative" sentiment feedback. Don't worry, we know those aren't quite the right words to use - the three sentiment options are just to enable you to classify feedback to help focus and prioritise feedback and coaching interventions. In feedback settings, you can configure the words and phrases used to elicit general feedback
Select other people to notify about the feedback. Add as many people as you like by clicking their names on the drop-down.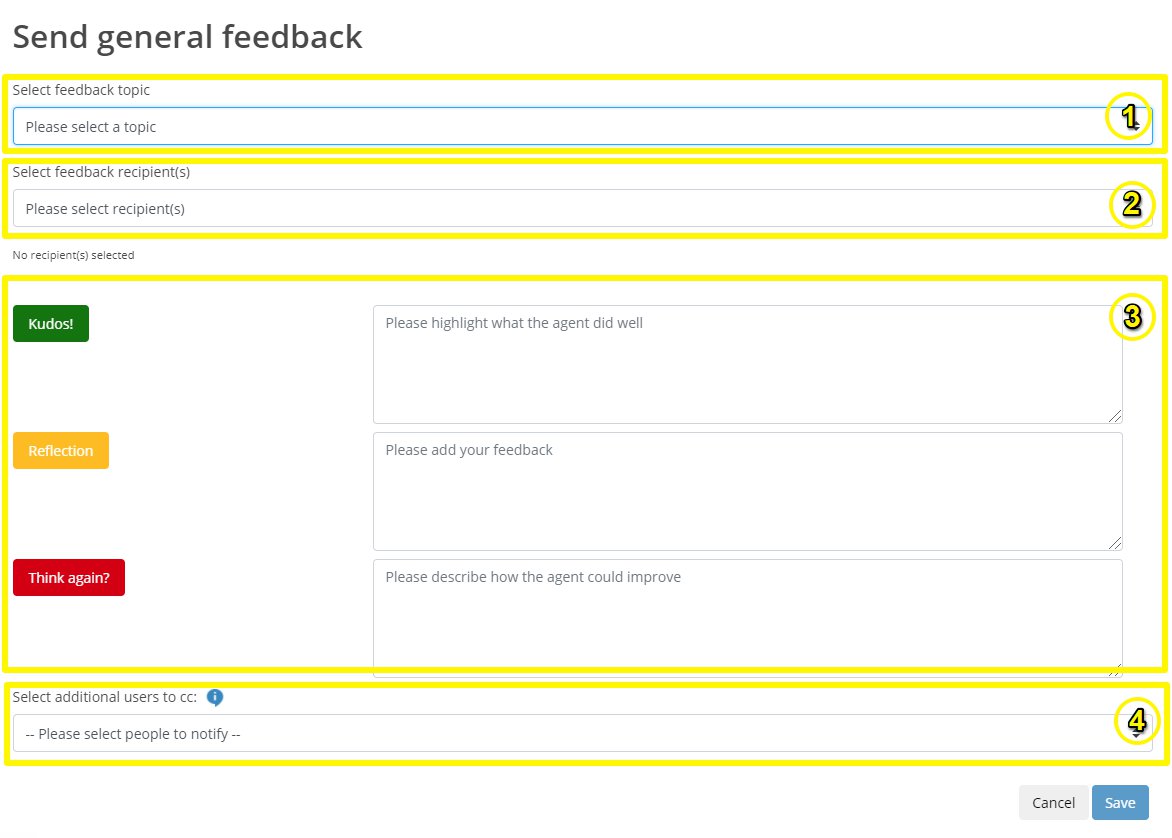 Notifying Agents and Managers about feedback
The Agent and any additional people (See point 4 above) will be notified automatically once the feedback is saved. Subject to the settings you configure in Notification settings, the relevant parties will be notified either by the system notification service and/or an email.
Calling out "Positive" feedback for wider recognition
If you have integrated EvaluAgent with Slack or MS Teams, then you have the option to share positive feedback in a channel of your choice. As soon as you enter positive feedback, the option to share to a channel appears (as highlighted below).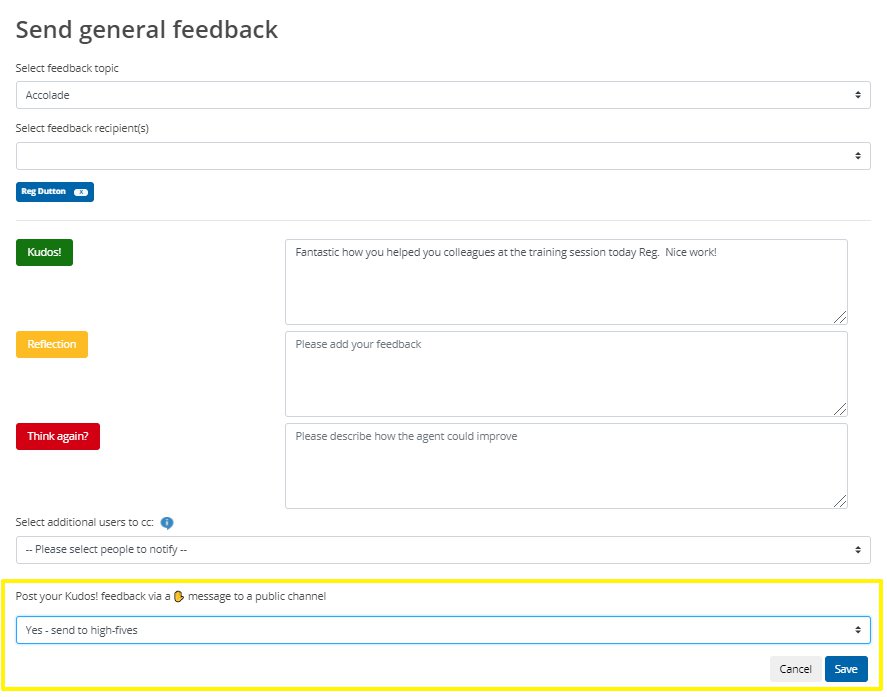 The message appears in Slack like this...