The most connected QA & Improvement platform
We've created a number of native integrations and we continue to release new ones all the time.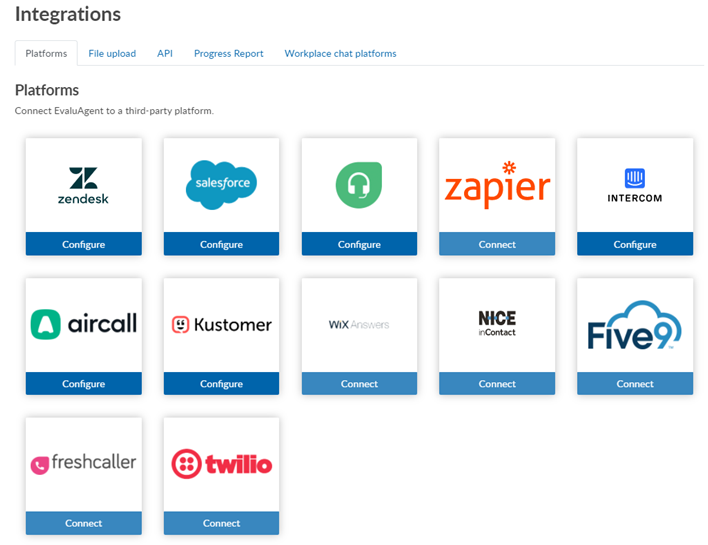 If you can't see your ticket-management, CRM or call-management system, drop us a line and we can discuss options. Based on the flexible framework we've created, it only takes 48 hours to build a native integration so long as your platform has an open API.
Don't worry, if you want to integrate one of those older on-premise solutions we can still integrate and fetch contacts into EvaluAgent via our SFTP feature
Integrations literally take 5 minutes to set up and, once configured, they start fetching tickets and calls into EvaluAgent enabling you to take advantages of a number of time-saving features such as automated work-queues, side-by-side annotation and evaluation in one platform and speech & text analytics.
Getting started
Go to Integration Settings and select your platform from the list. You'll be directed to the first of two steps...
Step 1: Authenticate
Each platform has a slightly different workflow. However, they are all broadly the same and, for the purposes of describing the process, we'll use the Zendesk example here.
In order to authenticate, you'll typically need Admin rights in your third party system (E.g. Zendesk). For all, you'll need to enter the URL domain address of your (Zendesk) instance. For some, you'll also be prompted to enter an API key that you'll be able to get access to from the third-party system (E.g. Zendesk).

Tip: If the address of your Zendesk account was: https://ABCEnergy.zendesk.com, then you's imply need to enter ABCEnergy to authenticate.
Tip: You'll need to be logged into Zendesk as a Zendesk administrator / account owner for the next step to work. When you enter the correct sub-domain address and press the Authenticate button, you'll be taken to the following screen in Zendesk

Simply Allow the integration and you'll be directed to the second step of the set-up process....
Step 2: Configure your integration
Once you have successfully authenticated your integration, you simply need to configure a handful of settings...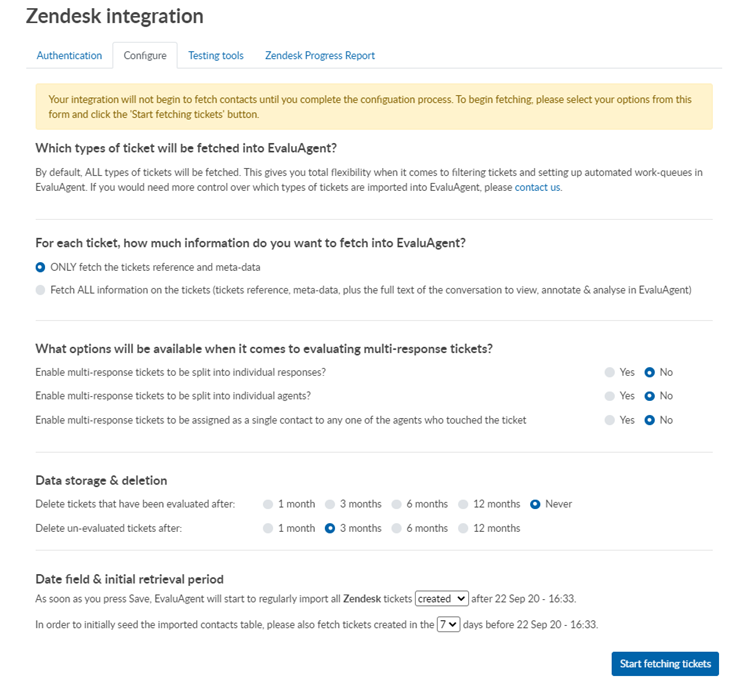 Once you've configured your integration, press the button to Start fetching contacts from your third party (E.g. Zendesk) into EvaluAgent.
You'll be directed to the Imported Contacts Screen where contacts will start to appear as the table starts to populate.