Introduction
Only recipients can acknowledge feedback and, in order to do this, they will need access to the platform.
Depending on the notification settings you have configured for feedback, a recipient may be notified about feedback via an in-app message, an email, and/or via a Slack or MS Teams message.
Acknowledging Quality Feedback via a notification
As part of the evaluation process, evaluators may add quality feedback as they evaluate a contact. As soon as the evaluation is published (and never before), the agent will typically receive a notification that they have received quality feedback.
The Agent can then access that feedback by clicking on the View feedback button/link in the notification.
Clicking the button directs the recipient to the details of the feedback and the opportunity to acknowledge the feedback

Clicking the Please acknowledge link enables the recipient to add his/her comments and reflections on the feedback. The recipient also selects whether or not the feedback was discussed face-to-face.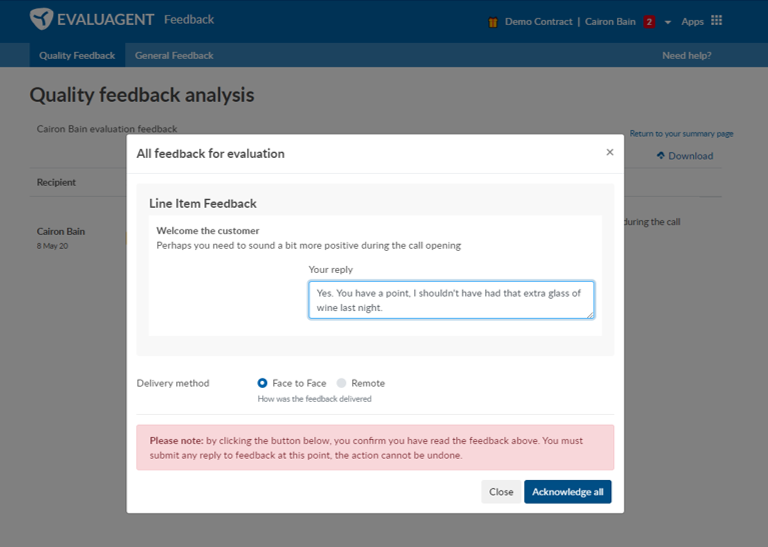 If multiple feedbacks have been added to an evaluation, then by accessing any one of the pieces of feedback, the recipient can acknowledge altogether.
Once acknowledged, the originator is notified and the feedback is updated with a relevant icon (head & shoulders icon to denote the feedback was discussed face to face or a screen icon to denote the feedback was not discussed directly). This helps keep the process transparent.
Acknowledging General Feedback via a notification
The notification, feedback access and acknowledgement process for general feedback is almost exactly the same.
Acknowledging Quality & General Feedback directly in the Feedback App
Go to the Feedback App
Quality Feedback
Agents are the main recipients of quality feedback and, based on their typical reporting-level access, they will only ever see their own feedback when they access the Feedback App. Any feedback that has not yet been acknowledged is visible in the table and can be accessed and acknowledged by clicking the Please acknowledge link.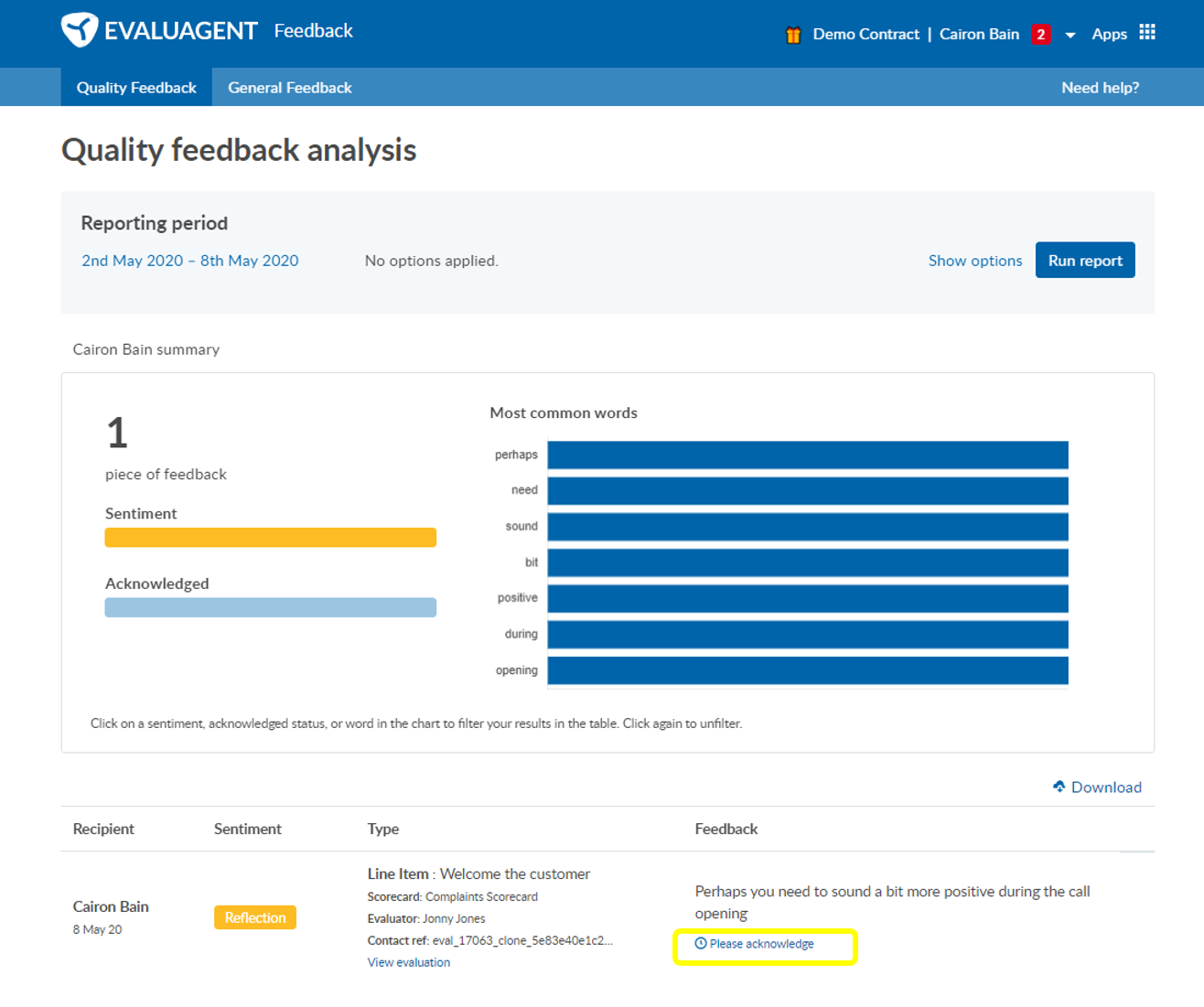 General Feedback
Anyone can receive general feedback and by clicking the My feedback option on the General Feedback tab, they can access all of the general feedback that they have received from other colleagues.

For more information on how feedbacks are presented and analysed via EvaluAgent's Feedback reports, please check out our user guide on how do I view and analyse feedback?