The Community Gamification features create an exciting environment for your team in their pursuit of better conversation quality. Before your team can access these features, as the team Administrator and Manager, you need to configure the environment, ensuring it's the right fit that will encourage participation.
Let's step through what you need to do to get set up:
Set the Community permissions.
Go to the Gamification settings.
Activate points awards.
Select participating teams.
Set the leaderboard timeframe.
Review and set up auctions.
1. Set the Community permissions
Firstly, navigate to your EvaluAgent role permissions.
Agent: An Agent should have access to all community features and the ability to raise suggestions.

Team Leader/Manager: The suitable role to manage the team's gamified environment, who will view the leaderboards and run auctions.

Administrator: Configures the company-wide gamification settings, such as points values, anti-gaming rules and participating teams.
By default, you will have all of these permissions.
2. Go to the Gamification settings
Navigate to the Community Gamification settings as an administrator:
3. Activate points awards
Engagements Events triggered within EvaluAgent are the source of points awards that drive the gamification amongst team members and teams, which drives improvements in their conversation quality.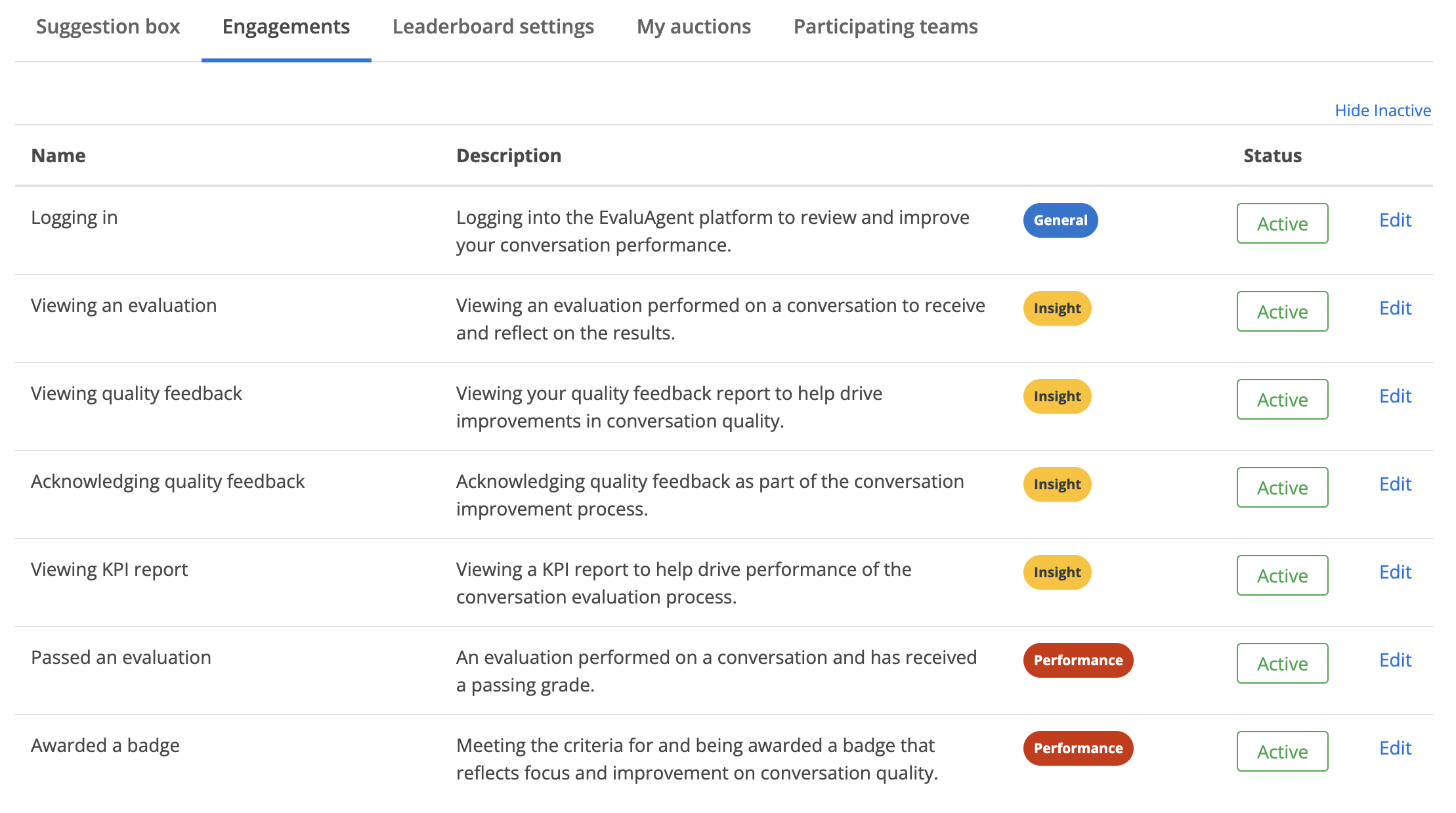 Activate Engagement Events
Select all from the list of Engagement Events, or choose which events you will activate for your team. Do this by clicking on the Active/Inactive status button. This will toggle the Engagement Event between the two states.
Configure Engagements
When you initially set up your Community Gamified environment with EvaluAgent, we will configure each engagement with recommended values proportional to the effort and frequency of expected use.

Configure points values
Confirm the points value of each event. The points value should be proportional to the effort associated with performing the activity in EvaluAgent. Here, we expect activities that require a large amount of effort to complete will be awarded a more significant amount of points. Likewise, with low-effort activities, we expect the award to be lower.
Set anti-gaming limits
Confirm the anti-gaming limit. It should consider the expected daily frequency of the activity to ensure team members are not discredited for genuine activity but prevent team members from taking advantage of the system.
Configure levels
Optionally, configure levels on each Engagement to encourage your team members to focus on these activities regularly. Each level should require a greater number of points than the last to ensure a level achievement accurately represents a team member's experience in that activity.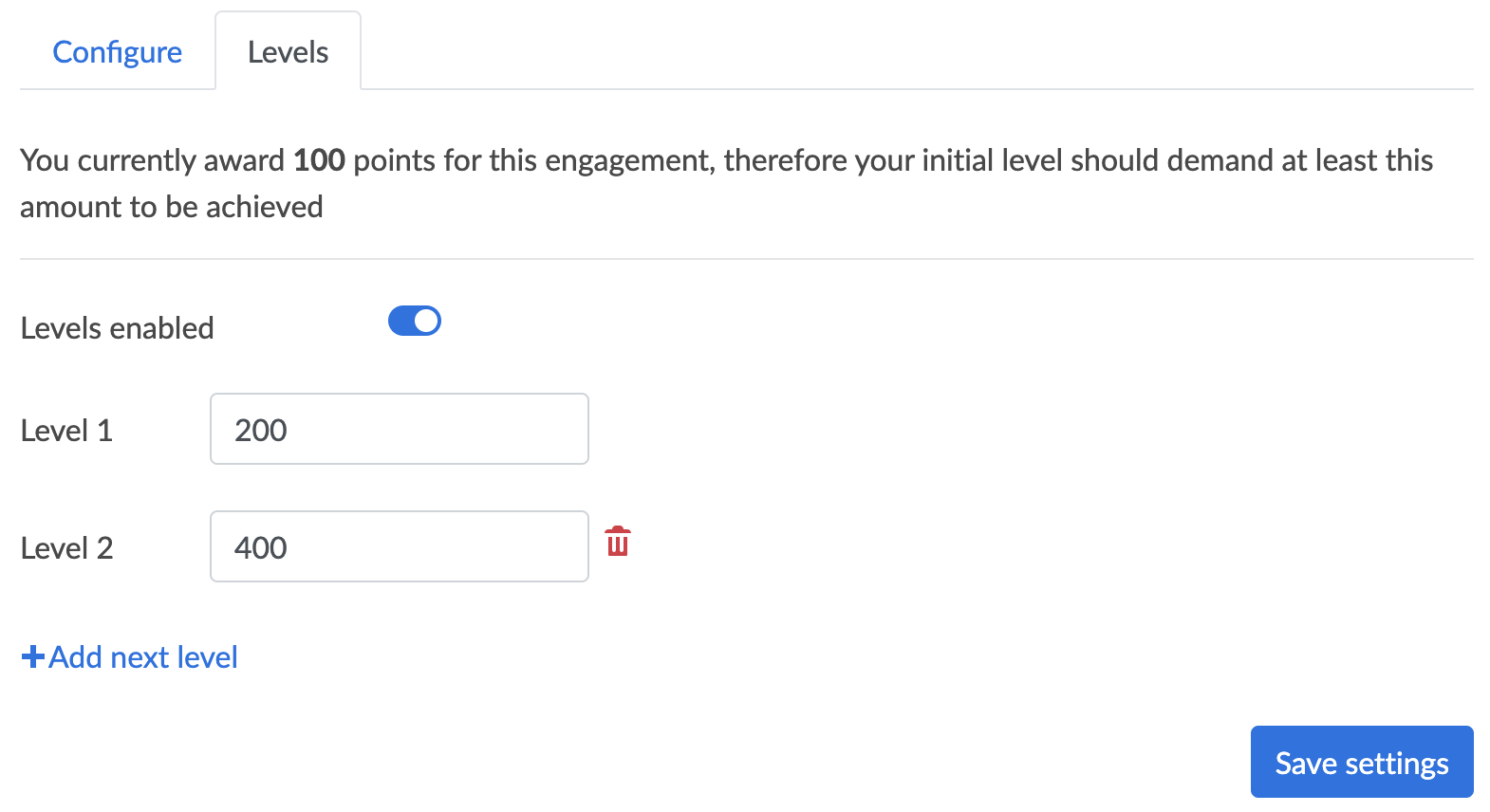 4. Select participating teams
The Participating teams tab allows you to manage teams and their participation in the Community gamification features. It provides you with controls to limit teams, test your gamified set-up, and then open it up to all teams once you're confident.
Allow all teams
Switch on "All teams allowed" to open Gamification to all teams in EvaluAgent. This overrides previous team access configurations by allowing all teams to participate. Switching off will allow you to pick and choose teams who will participate.
Select teams
Switch off "All teams allowed" and select which of your teams will participate in the gamification features. A selected team will appear with a green outline, and unselected teams appear with a grey outline.
5. Set the leaderboard timeframe
Configure the leaderboard to control its behaviour and ensure it aligns with your team's culture.

Set the refresh period
Set the Leaderboard refresh period between 7 and 90 days. If your team prefers quicker cycles, creating regular competition amongst each other, set the refresh period to a low value, such as seven days. This will mean the board will refresh each week, providing opportunities for team members to climb to the top.
Configure the visible range of users
Set the visible range of users on the leaderboard between 1 and 20 to control the size displayed to a team member viewing their leaderboard. This value should be big enough to show a reasonable view of the leaderboard but small enough to encourage the team to make gradual improvements and climb to positions close to them rather than attempting to reach the top, which may only sometimes be realistic.
6. Review and create auctions
Auctions enhance the reward experience, allowing team members to use their rewards to gain prizes of value to them. As a Manager, you will create and manage auctions, ensuring a good spread of items and a number of auctions for team members to participate in.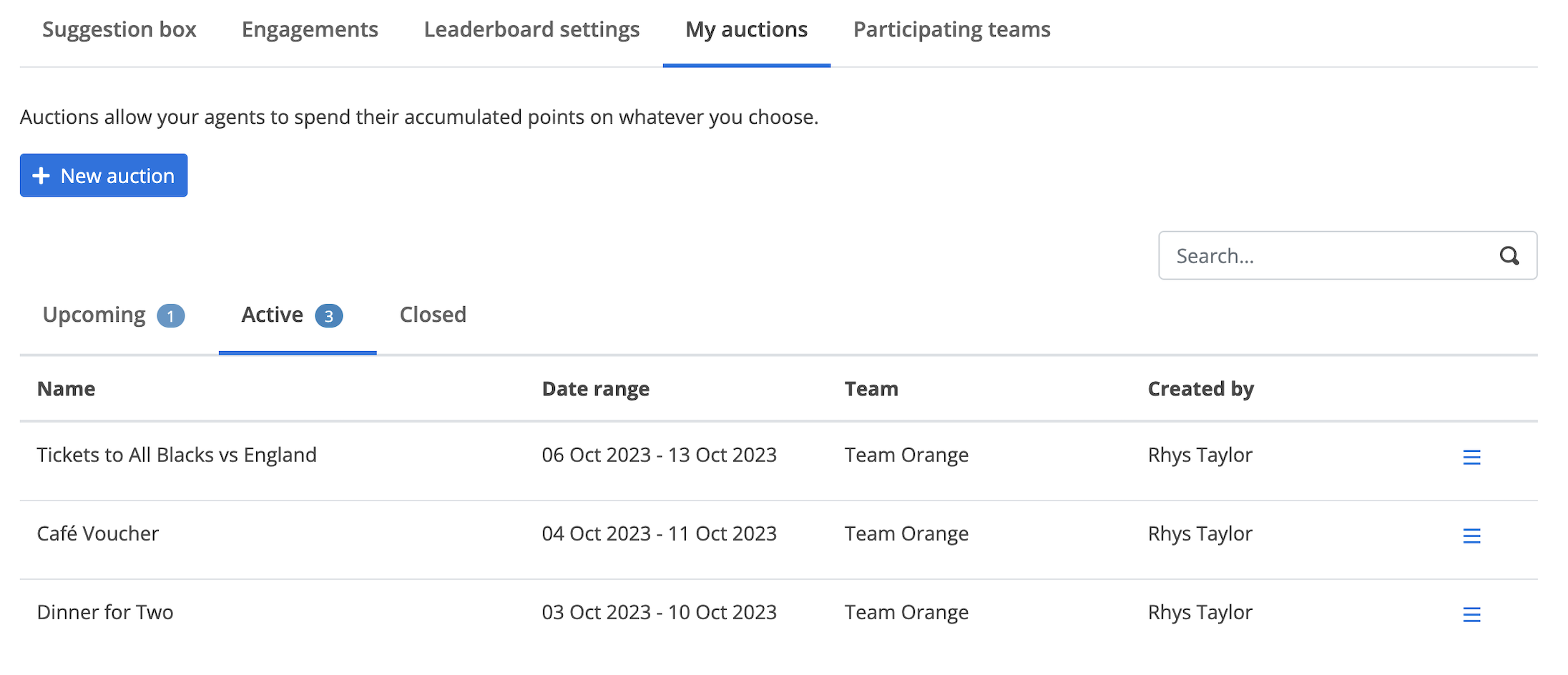 Create an auction
Soon after setting up your gamified environment, your team will be interested to know what they can do with their points. Create an auction to catch their interest and encourage them to engage with EvaluAgent.
Click "New auction" and follow the auction creation workflow to create something they will bid on with their newly earned points.
View the auction
From the right-hand hamburger icon on the auction, click View to see what the auction looks like to the team members.