Introduction:
Widgets are the tiles that make up your dashboard. Each widget will be a visual representation of a metric (for example quality score or pass rate) that you define. You can customise your widgets to show these metrics at a reporting level or time period that you choose.
An overview of the different widget types ins provided in the guide: Introducing SmartView Custom Dashboards
Adding your first widget:
To add widgets to a new empty dashboard grid you can either click on your empty grid or click on the '+ Widget' button.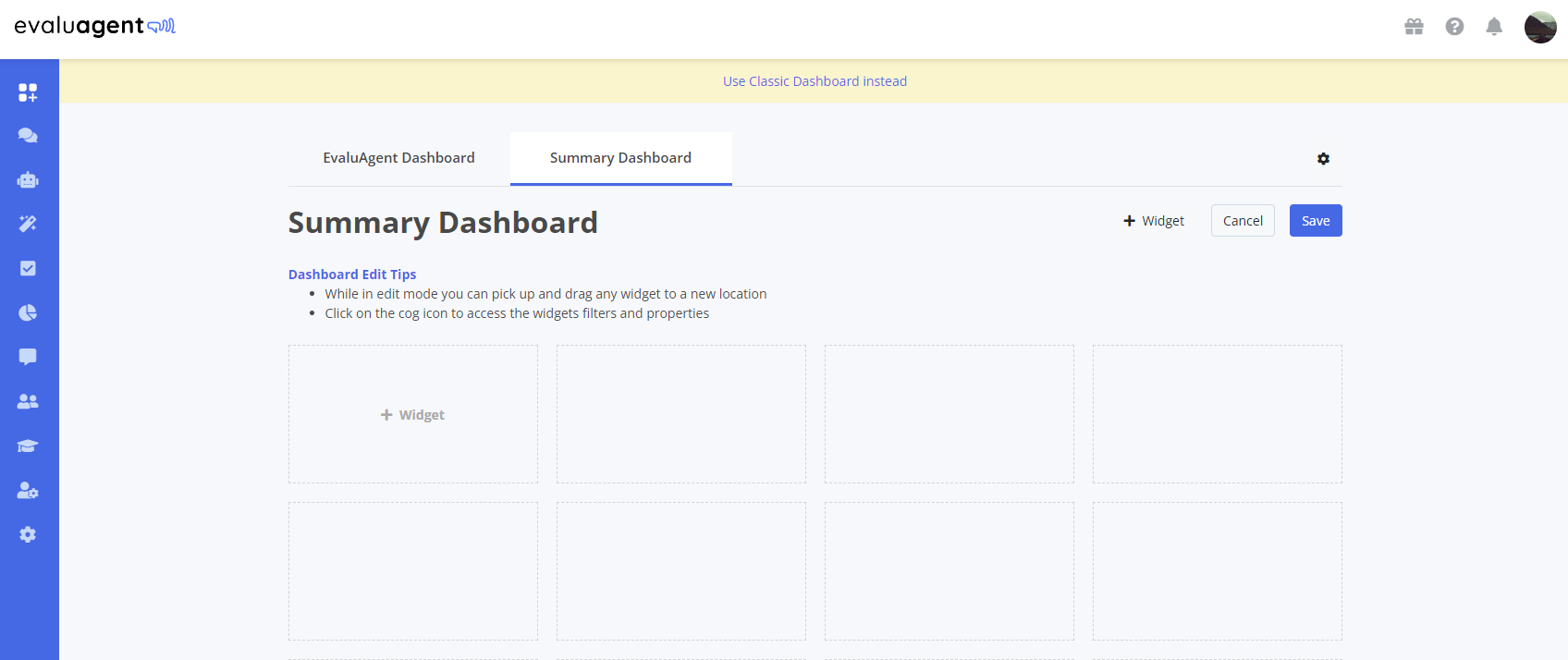 If you have already added your first widget to your dashboard, you can just click '+ Widget' button to add more.
You will now step through the widget wizard - a simple step by step process for building and configuring your widgets.
Step 1 - Define what your widget will show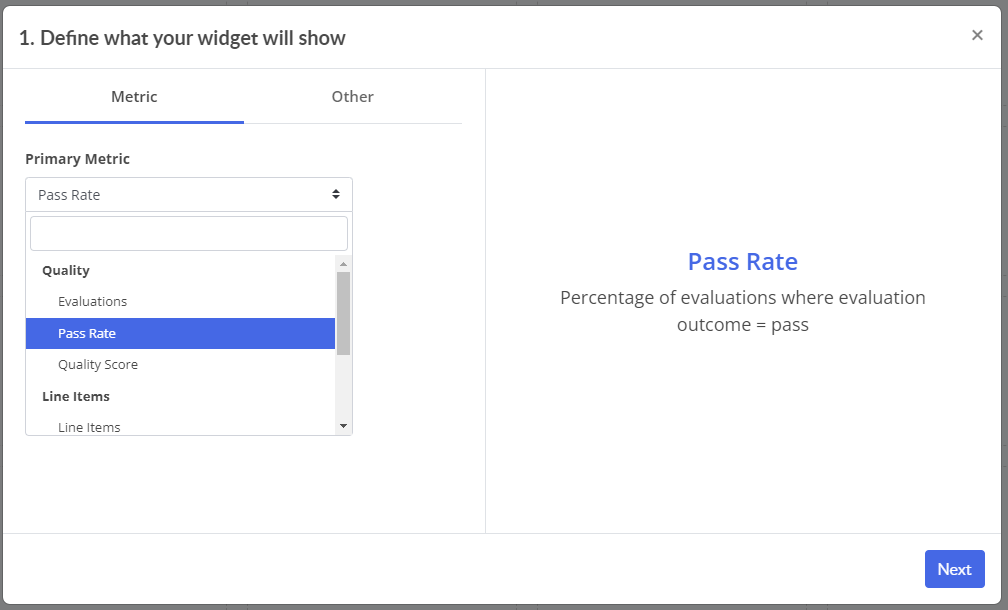 The first step in the process is to decide what your widget will show. You can select a primary metric you want to visualise from the drop-down list or begin typing the metric name in the search box to find it.
Clicking on your selected metric will display the metric definition, so you'll know you've got the right one.
Click next to continue
If you wish to build a widget to compare two metrics in the same visualisation then you can click the 'Add metric to compare' check box and then select a second metric to compare with your primary selection.
When selected, the definition for both metrics will be shown in the right panel.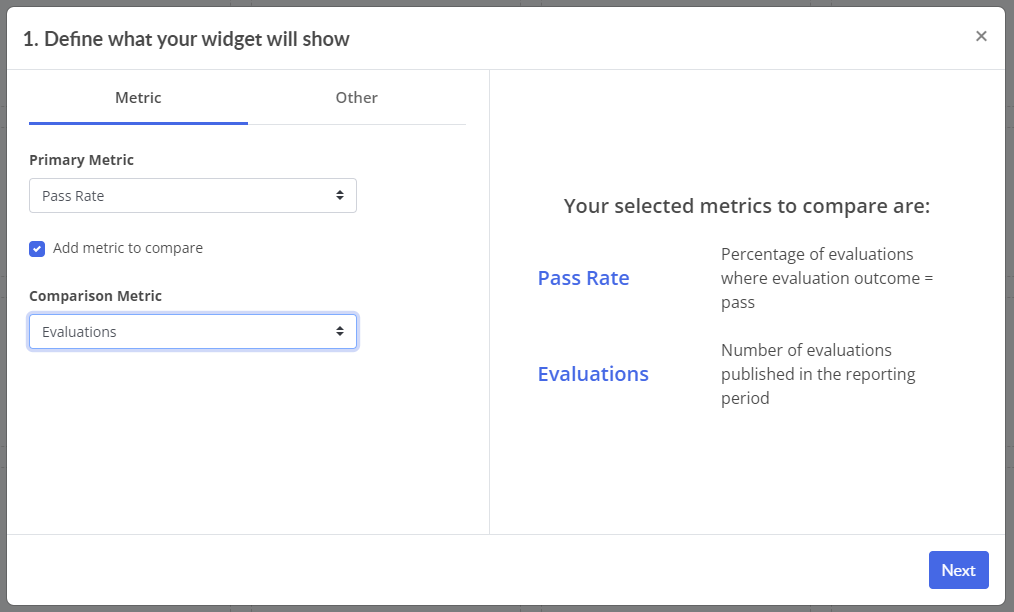 Metric Visibility
Some metrics will only be visible to non-agent roles as they are considered to be either irrelevant for agent users or sensitive. These restricted metrics will only appear in the drop-down list for non-agent roles.
Step 2 - How would you like to show it?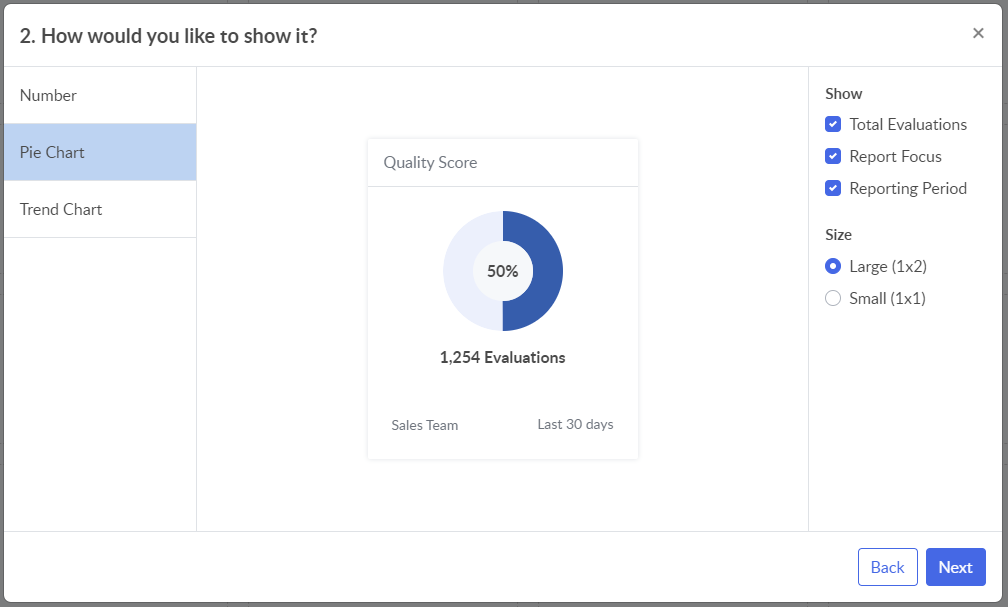 The second step enables you to decide how you would like to visualise your selected metric. Some metrics will support several different types of visualisation, while others may only offer a single choice.
Select your preferred visualisation type from the list and click on it to display an mock-up of how it will look on screen
You can also choose what options will be shown, for example any totals, the report focus (business hierarchy) or reporting period etc
Finally confirm what size of widget you want (note: not all widget types have size options)
Click next to continue
Step 3 - Apply Filters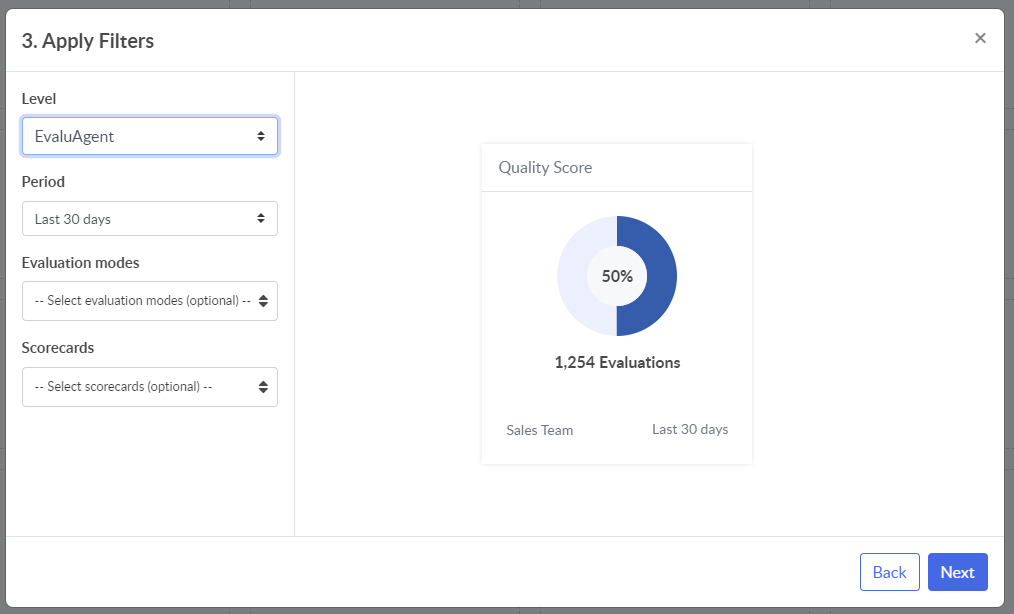 The third step offers you the a range of filters to change the data range to be included in your widget. These filters will be specific to the metric type you have chosen and so may be different than shown in the screenshot above.
The most common filters are:
Level - Select the reporting level you wish to focus on - for example the whole business or a specific team
Period - Select the time period you would like your widget to display, for example last 7 days or last 30 days
Evaluation Modes - Select what type of evaluations you will include or leave it blank to select them all
Scorecards - Select which scorecards you will include or leave it blank to select them all
Step 4 - Name and Save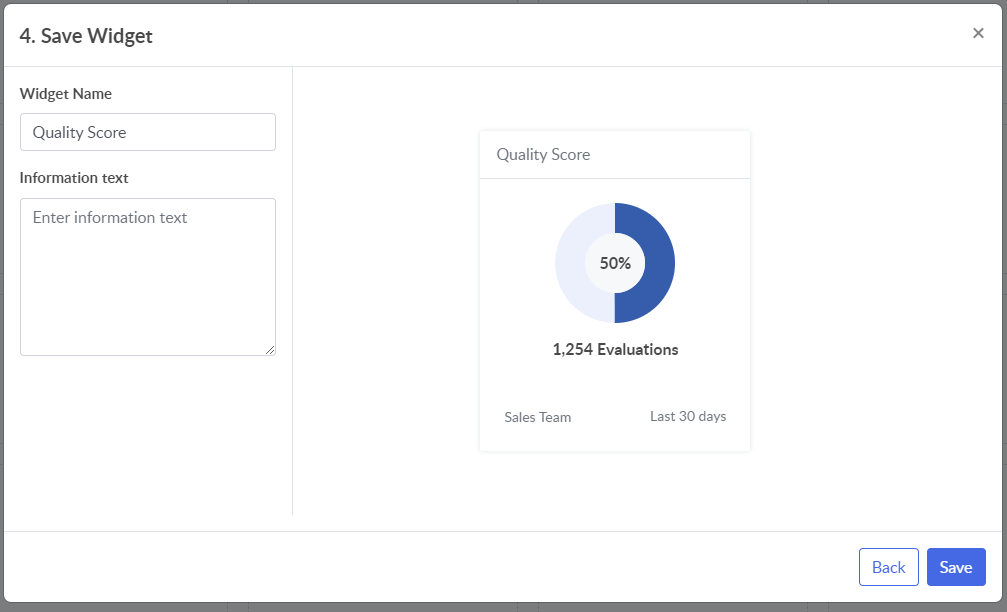 In the fourth and final step you can give your widget a descriptive name (or accept the default suggestion). Widget names must be unique on your dashboard.
You can also add and additional information text that you would like to appear when you click on the info icon (more on this later).
Your widget will be placed in the next available space depending on its size. You can always drag it into a new position at any time.
Accessing widget information:
If you hover over the info icon on any widget, you will see a pop-up that shows all the specific information about that widget – reporting level, focus, scorecards etc. This means you don't need to include these actually on your widget if you prefer the minimalist look! You can always refresh your memory as to what this widget is all about.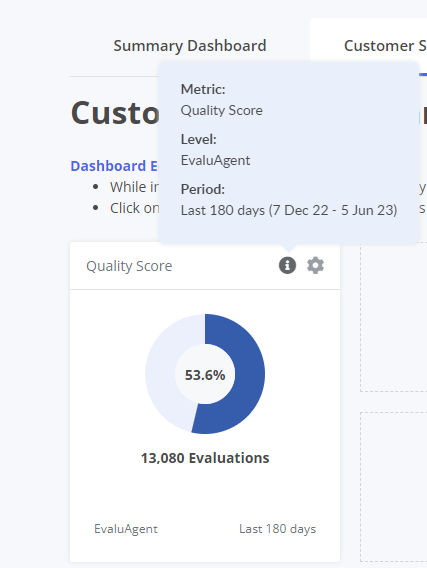 Editing Widgets:
You can also edit the individual widgets too, simply click on the cog icon in the top right of each widget and select the 'Edit' menu option to reveal the edit slide out. Here you can make changes to how you see these widgets such as reporting levels or what is shown on the widget.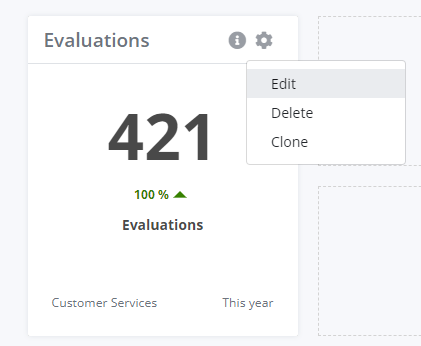 Click on the cog icon and select 'Edit' from the menu to open the edit widget slide out
You can switch between the 'Filters' and 'Properties' tabs on this slide out to change the configuration of your widgets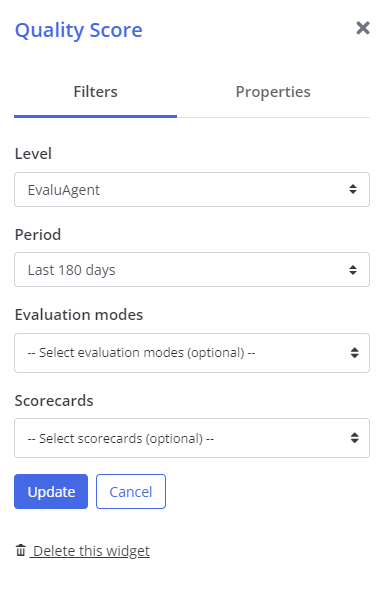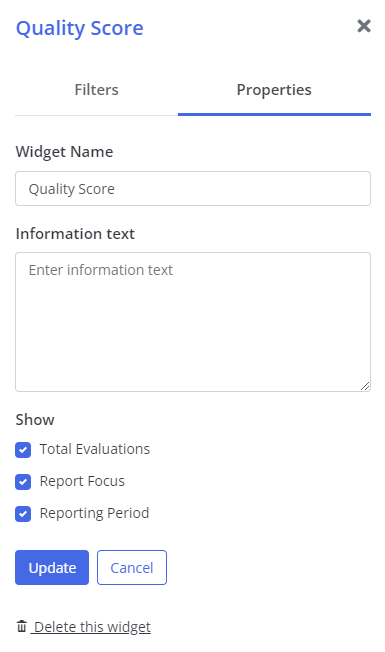 Deleting Widgets:
To delete a widget:
Click on the cog icon and select 'Delete' from the menu to open the edit widget slide out
Click 'Delete' in the modal to confirm you wish to proceed
Cloning Widgets:
As well as being able to create widgets from scratch, you can also clone a widget from any of your dashboards.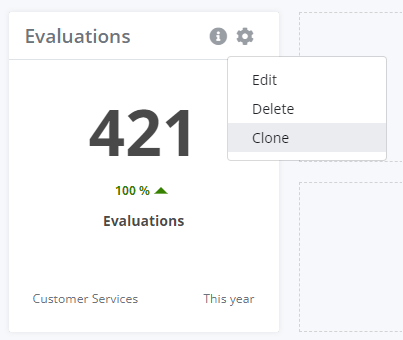 To clone a widget:
Click on the cog icon and select 'Clone' from the menu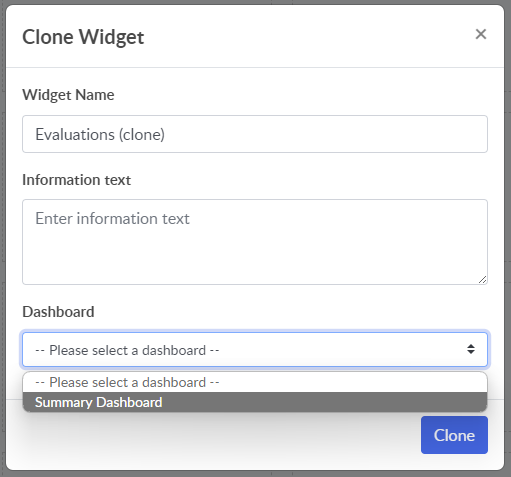 From the widget clone modal, choose a new name for your widget or accept the default suggestion
Add any extra information you wish to appear in the information pop-up
Then select the dashboard you wish to clone the widget too.
Note: only SmartView dashboards that you have created can be seen in the drop down list.