Please note: this feature is currently in BETA.
Badges are a great way to recognise agents who have gone the extra mile, without impacting the score or outcome of the Evaluation. Once a badge has been created, anyone with permission to evaluate a contact can award a badge so long as the criteria set by the admin have been met, and the badge is set to active. If awarded in error, a badge can also be removed.
How to award a badge
A badge can easily be awarded from the actions menu on the evaluation results screen - shown below.

Follow these steps to award a badge
Navigate to the evaluations result screen
Click the Actions Button to reveal the list
Click "Award Badge" to reveal the pop-up module.


Select which badge from the list you'd like to award by clicking the small circle next to the badge. Please note, only 1 badge can be awarded per an evaluation.
Click the "Award Badge" button

Keep reading to understand what happens when a badge is awarded, or skip to removing a badge.
What happens when a badge has been awarded?
A small image of the badge will now appear on the evaluation result page, visible to all who can view this page. The badge name and badge description are shown when a user hovers over the badge icon.
Like the evaluation result and any associated feedback, the agent who has been awarded the badge will receive a notification that will direct them to the evaluation result screen. To celebrate their achievement, a pop-up and some confetti will appear the first time they view the evaluation.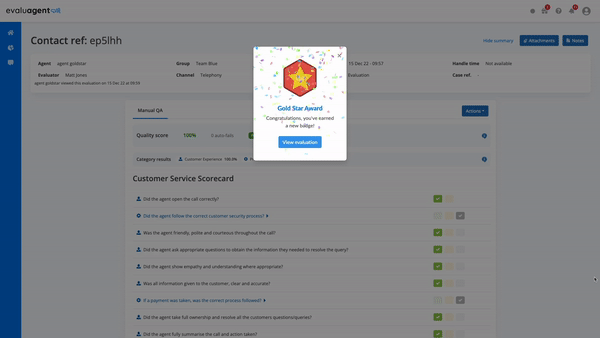 In addition, the following reports will be updated:
The profile page on the Agent Insight report
KPI report (the total number of badges awarded)
Evaluator performance report (the total number of badges awarded by the evaluator)
How to remove a badge
If a badge has been awarded in error, the badge can be removed by anyone with permission to edit an evaluation.
Navigate to the completed evaluation you wish to remove the badge from
Click on "Actions" followed by "edit"
As shown in the screenshot below, from the edit evaluation screen you can click "remove badge" to delete it from this evaluation. The badge will then be removed from the evaluation and any reports will be updated.