Please note: this feature is currently in BETA.
Badges are a great way to recognise agents who have gone the extra mile, without impacting the overall result of the Evaluation or requiring a change to your scorecard. Once created, badges can be awarded by any user with permission to evaluate. So, how do you create your first badge, and manage existing badges?
How to create your first badge
Please note, you must have permission to manage quality settings to create, edit and delete badges.


From this page, you can create a new badge and/or edit current badges.
Create a new badge
Step 1: Click the "Create new badge" button
Step 2: Complete the form. All fields are mandatory.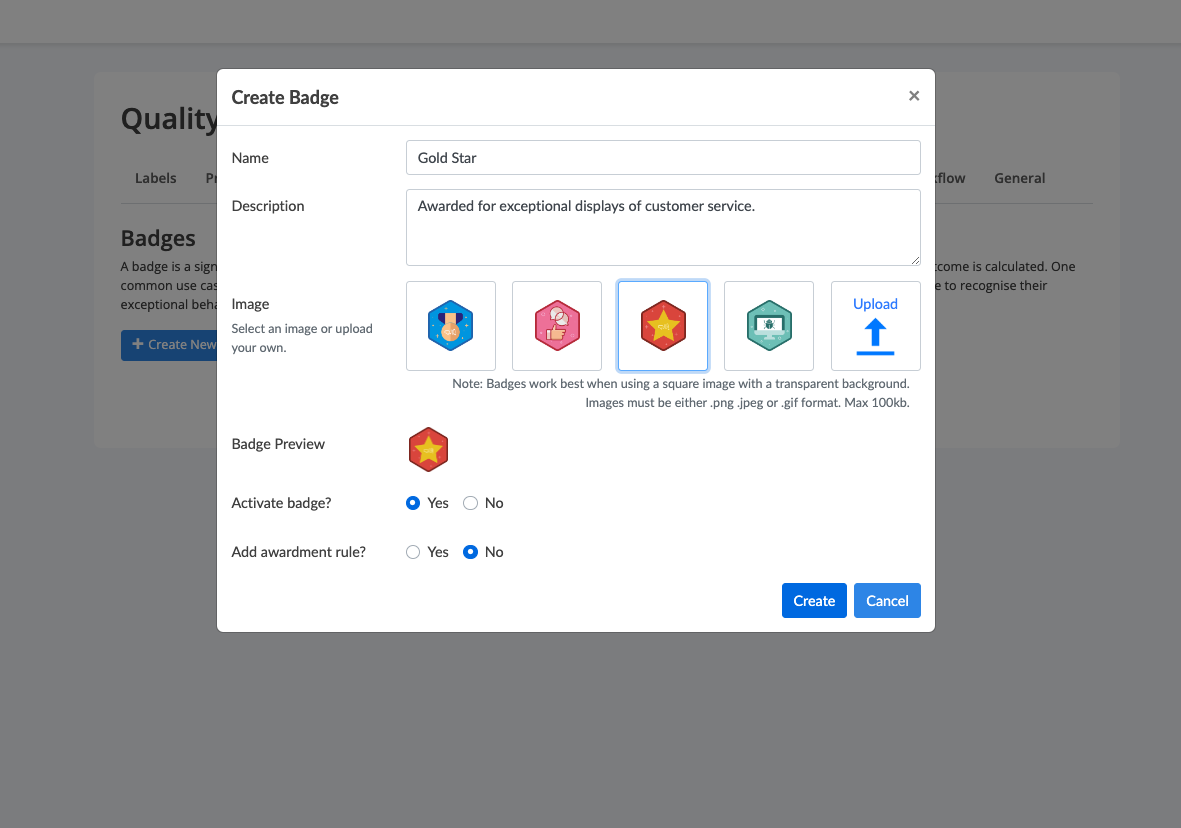 Badge Name = This must unique for each badge and is shown within tooltips across the platform, so we'd advise you keep this short. For example, we may name this badge "Gold Star"
Badge Description = This should include a description of the badge, and why it would be awarded. For example "The Gold Star is reserved exclusively for exceptional displays of customer service". Please note - the badge description is visible for all as a method of ensuring understanding. As such - we'd recommend making the description easy for everyone to understand.
Image = Select one of our pre-built badges, or upload your own badge. Please note - Images must be either .png .jpeg or .gif format and have a max file size of 100kb. For non-square images, we strongly recommend using an image editing tool to finalise your badge prior to uploading it into EvaluAgent.
Activate Badge = You can build a badge for later by selecting no, or immediately make the badge available for evaluators to award by selecting "Yes"
Rules = Rules give you control over what the evaluation result/outcome must be for that specific badge to be awarded by evaluators. This optional feature gives you as an admin greater control over specific badges. For example - you may want to create a badge that can only be awarded when the Quality Score equals 100%.
Step 3: Click the "Create" button!
Step 4: Once the badge has been created, it will appear in your list. From here you can Edit a Badge or Delete it entirely.
Step 5: Ensure your new badge is set to active to start using it within your Evaluations!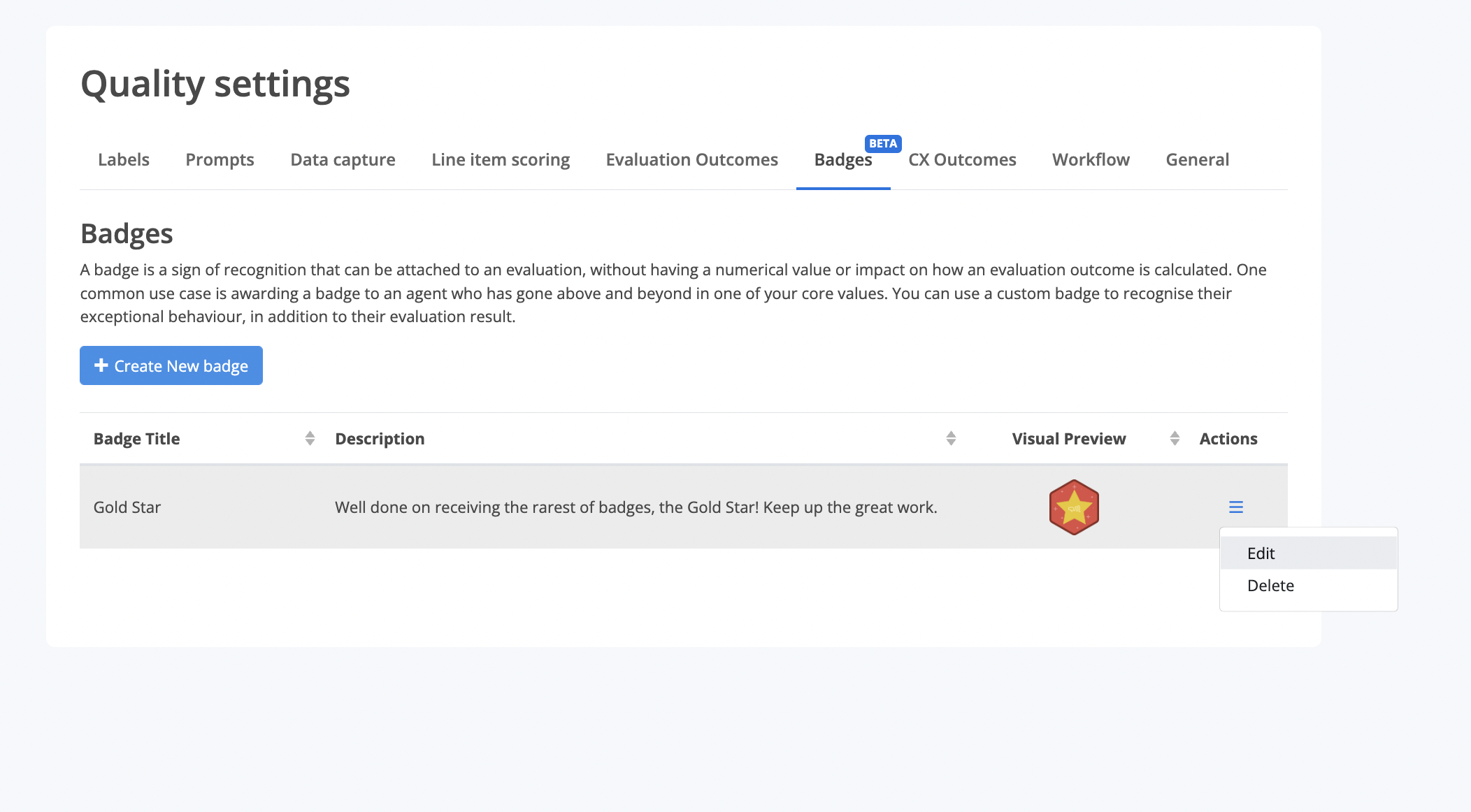 Editing a badge
Over time you may wish to update your badge, perhaps with a new design, a change in description, or a change in the rules that must be met for an evaluator to be able to award the badge.
All the above can be achieved by clicking the hamburger icon next to the badge which you wish to edit, followed by clicking "edit"
Once clicked, a familiar form will appear enabling you to change any settings and click the update badge button.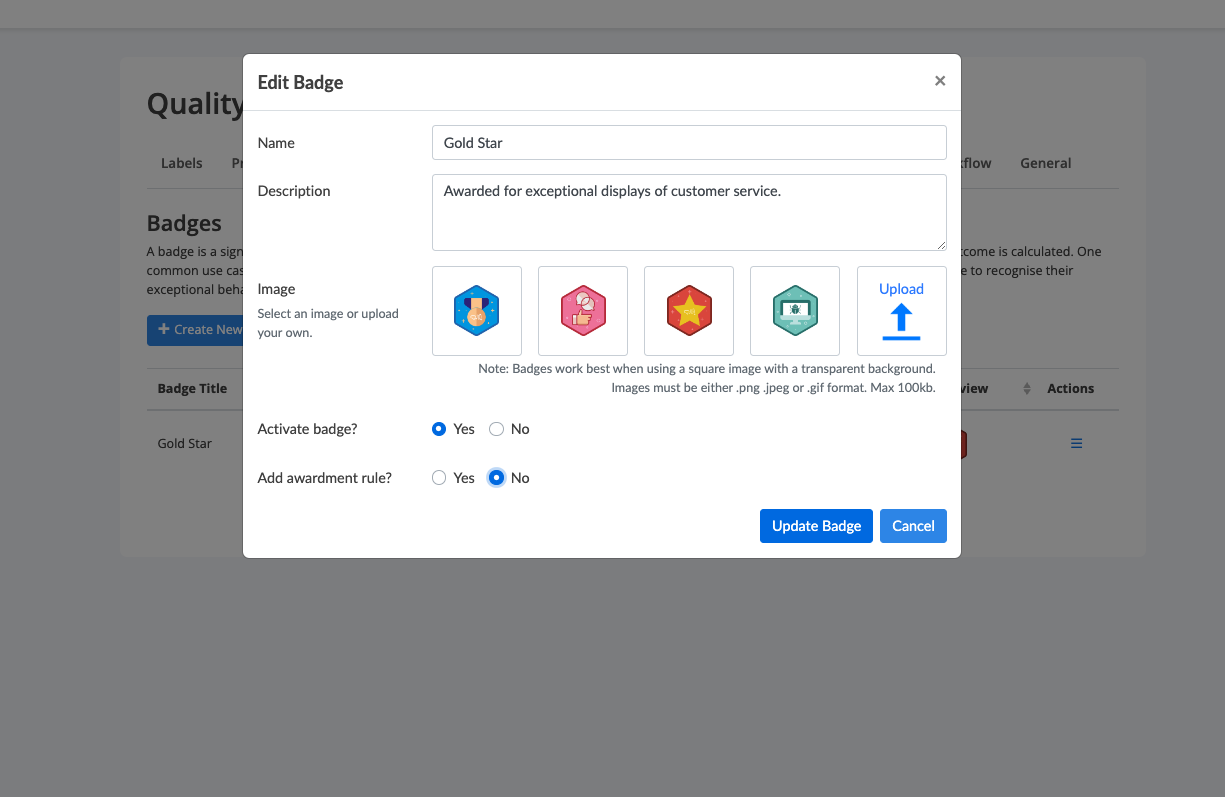 Please note the following when editing a badge
Any updates to the badge name, description and image will be a global change. This means it will update any previously awarded badges with the latest image, badge name or description throughout the platform.
When badges are deactivated, they can no longer be awarded however any deactivated badges will remain within the reporting, and visible on the evaluation/agents profile. If you want to remove any reference to a badge, please use the Delete Badge option.
Any amendment to rules will only be applied going forward, and not retrospectively. If you wish to remove a badge from an evaluation, you must do so manually:

removing a badge
Delete a badge
We recommend only deleting a badge in a small number of circumstances as doing so will delete any and all data associated with the badge. This data cannot be retrieved by our support team.
If you wish to delete a badge and its associated data, click the hamburger menu next to the badge in question, followed by selecting the "Delete" menu item.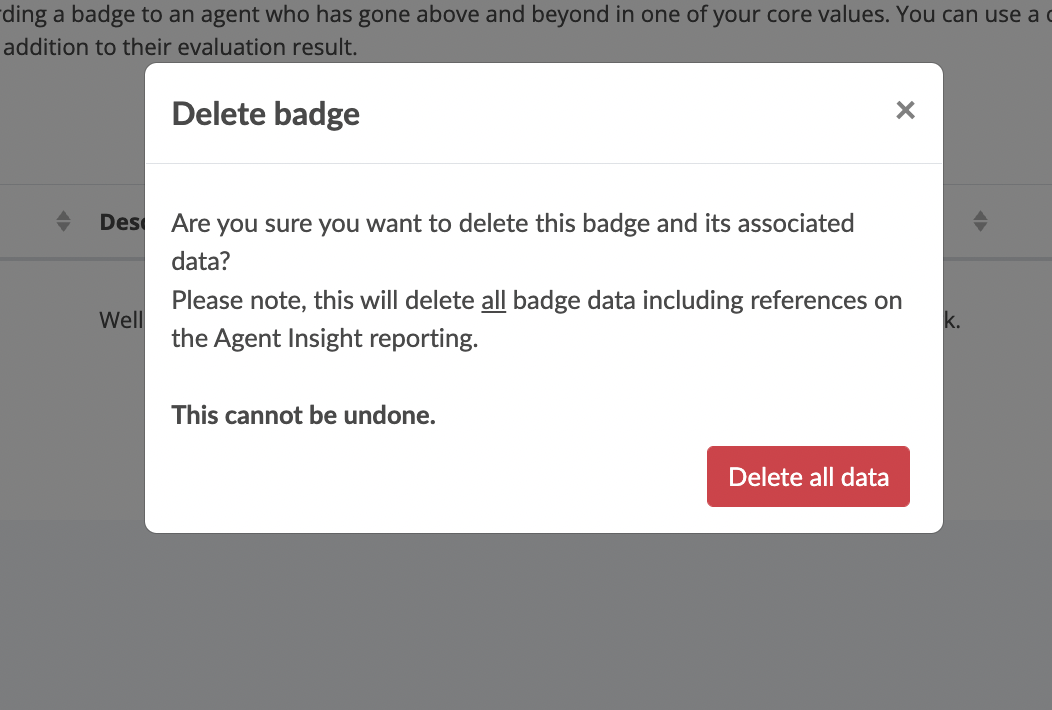 To delete all the data, click the Red "Delete all data" button. If you change your mind, or simply select this by accident you can close the model by clicking the X in the top right of the window.